eBooks (Available Titles)     |    Recent Fiction (Novels)
<<<   Recent Blog Article Titles    |   Articles Just for Writers   >>>
For Hubpages Network [CharmMatters]

Provides News, Politics,  Current Event Articles, and brief Editorials.

________________________
SELF-PUBLISHED GUIDES AVAILABLE!
 Looking for helpful resources and self-help books?  Check out these titles and
Assisted Living Choices (What You Should Know about Choosing an Assisted Living Community)
Breeding Goldfish Eggs (Step-by-Step Guide to Successful Breeding) by Just Charm Publishing
Discovering the True Benefits Of Therapeutic Massage
Funerals, Organ Donations and Shipping a Deceased Loved One (What You Should Know Before They Go)
Nail Biters: How to Break the Embarrassing Habit of Biting Your Nails
RV Travel: Camper-Friendly California Beaches, Parks and RV Campgrounds
Quick and Easy Ways to Protect Your Fruits and Veggies
Varicose and Spider Veins (Introduction and Farewell to a Painful and Embarrassing Condition)

ALSO AVAILABLE UPON REQUEST!
For Writers / Authors / Bloggers & Website Owners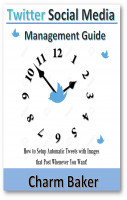 FREE DOWNLOAD AVAILABLE
Twitter social media management involves a number of different marketing and promotional activities related to your Twitter account. This particular step-by-step guide focuses SPECIFIC attention on how to get the most out of Twitter, by posting MORE tweets so they can get noticed.
You'll discover how easy it is for you to AUTOMATE your tweeting so you can do effortless posting, daily, hourly, or even every half hour!
By now you probably realize that it's not enough to simply have a lot of Twitter Followers, not when they're not seeing your message on a regular basis (whatever that message happens to be).
There are an estimated 5 MILLION tweets being posted on Twitter every single day. Without a well-managed social media marketing agenda, your few tweets a day are falling on deaf ears. Not only that, but while you're busy trying to pick through thousands of Followers to interact with, somebody (or a lot of somebodies) is out there posting their own promotional tweets. Somebody, but not you!
Face it, you don't need more followers, you need more tweets!
Consistently make your message visible every day, all day. Learn to set up automatic Twitter posts.  This guide will show you how to setup automatic tweets that even contain images and your important links. These tweets can be set to automatically post whenever you schedule them to.
It is an easy to read guide, but the information is very descriptive, although simple to follow. Your first round of scheduled tweets can be up and running within a half an hour after finishing this book. The author also provides contact information at the end, for anyone requesting additional assistance.
With what you learn in this guide, your never-ending Twitter posts can be the start of a whole new influx of interest in whatever you offer, not to mention a boost to your bottom line!
Follow Charm on
FOLLOW

AND

SHARE

YOUR

COMMENTS

&

VIEWS
I Like To

Follow Back

and:
AUTHOR ANNOUNCEMENT:
Charm Baker is currently seeking other Los Angeles-based authors and serious online writers for a local meetup network.  For more details, email your inquiry to: charmdbaker@gmail.com and you'll receive a prompt response.